April 27, 2005
Narnia Blogging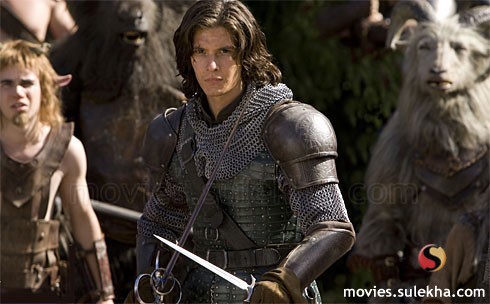 The eldest Llama-ette and I are slogging our way through Prince Caspian. This is my least favorite book in the Narnia cycle. For one thing, I always feel Lewis takes too long re-establishing the children in Narnia and then starting them on the march for Aslan's How. For another, the long detour in the plot while Trumpkin fills in the backstory on Caspian and Miraz was rather confusing for the gel and took a lot of explanation. Also, of all the Chronicles, this one comes the closest in my mind to feeling a slight bit forced, at least in the first half. The story doesn't really seem to flow in the old Lewis way until Lucy's first encounter with Aslan on the cliffs.
Of course, these are all very minor criticisms. Furthermore, I am sustaining myself with the reminder that next up is one of my favorites, The Voyage of the Dawn Treader. Among other things, it contains one of the finest opening lines in all of English Literature: "There once was a boy called Eustace Clarence Scrubb and he almost deserved it."
UPDATE: Speaking of favorite Llama-ette bedtime reading, Sheila notes that today is the birthday of Ludwig Bemelmans, creator of Madeline.
Posted by Robert at April 27, 2005 08:05 AM