September 09, 2005
Happy Birthday, Cardinal Richelieu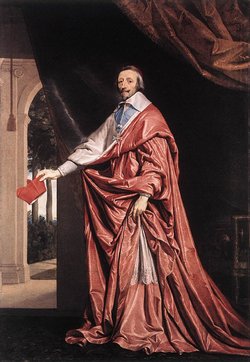 Today is the birthday (in 1585) of Armand Jean du Plessis, Cardinal Richelieu. Think I'm going to pass up this opportunity? Not bloody likely!
Counsel: Call Cardinal Richelieu.
Judge: Oh, you're just trying to string this case out. Cardinal Richelieu?
Counsel: A character witness m'lud.
Fanfare of trumpets. Cardinal Richelieu enters witness box in beautiful robes.
Cardinal: 'Allo everyone, it's wonderful to be 'ere y'know, I just love your country. London is so beautiful at this time of year.
Counsel: Er, you are Cardinal Armand du Piessis de Richelieu, First Minister of Louis XIII?
Cardinal: Oui.
Counsel: Cardinal, would it be fair to say that you not only built up the centralized monarchy in France but also perpetuated the religious schism in Europe?
Cardinal: (modestly) That's what they say.
Counsel: Did you persecute the Huguenots?
Cardinal: Oui.
Counsel: And did you take even sterner measures against the great Catholic nobles who made common cause with foreign foes in defence of their feudal independence?
Cardinal: I sure did that thing.
Counsel: Cardinal. Are you acquainted with the defendant, Harold Larch?
Cardinal: Since I was so high (indicated how high).
Counsel: Speaking as a Cardinal of the Roman Catholic Church, as First Minister of Louis XIII, and as one of the architects of the modern world already - would you say that Harold Larch was a man of good character?
Cardinal: Listen. Harry is a very wonderful human being.
Counsel: M'lud. In view of the impeccable nature of this character witness may I plead for clemency.
Judge: Oh but it's only thirty shillings.
Enter Inspector Dim.
Dim: Not so fast!
Prisoner: Why not?
Dim: (momentarily thrown) None of your smart answers ... you think you're so clever. Well, I'm Dim.
A caption appears on the screen 'DIM OF THE YARD'
Omnes: (in unison) Dim! Consternation! Uproar!
Dim: Yes, and I've a few questions I'd like to ask Cardinal so-called Richelieu.
Cardinal: Bonjour, Monsieur Dim.
Dim: So-called Cardinal, I put it to you that you died in December 1642.
Cardinal: That is correct.
Dim: Ah ha! He fell for my little trap.
Court applauds and the Cardinal looks dismayed.
Cardinal: Curse you Inspector Dim. You are too clever for us naughty people.
Dim: And furthermore I suggest that you are none other than Ron Higgins, professional Cardinal Richelieu impersonator.
Cardinal: It's a fair cop.
Counsel: My you're clever Dim. He'd certainly taken me in.
Dim: It's all in a day's work.
Now you can call me a geek if you want [Ed. -like they haven't before?], but one of the many things about this sketch that's always cracked me up is its accuracy - John Cleese, as the counsel, taps the bullet points that any person with a reasonable European history education would know about Cardinal Richelieu. I love it when that kind of thing gets worked in - to me, such intelligent writing compliments and enhances the other elements that make the piece so funny.

Posted by Robert at September 9, 2005 02:19 PM | TrackBack