August 26, 2005
It's A Wiggly Weekend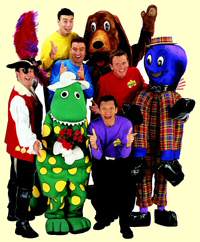 I'm taking the five and three year olds to see The Wiggles in concert this weekend. And while some of you may shudder at the prospect, I have to say that I don't mind at all. When it comes down to it, there is really nothing wrong with the Wiggles. Their music is pleasant and entertaining. Their skits and sketches, far from being soupy or sappy or preachy, are harmlessly silly. True, there are signs that they are being assimilated into the Disney Collective (the gels don't like their newer show very much), but what the hell - we're probably only going to have any interest in them at all for another year or two, after which their spigot on my wallet gets turned firmly off. (Do you know the Wiggles topped the list of richest Australian performers for 2004, outgrossing both Nicole Kidman and Russell Crowe?)
Besides, the concerts are a lot of fun. I took the two elder Llama-ettes to see the Wiggles at the MCI Center two years ago - every single kid there had the words to every song down cold. They knew all the jokes, too. The place was jumpin'.
'Course, there are some downsides. I've already had a run-in with the gels about whether we were going to buy roses to give to Dorothy the Dinosaur. (If you don't know what this means, don't ask.) Also, the Wiggles' Australianism gives rise to occassional conflict: their Christmas Special, with everybody standing around in shorts and swimsuits, can offend young Northern Hemispheric sensibilities. Also, the Llama-ettes got into a violent argument on our recent drive down from Maine over whether Cocky the Cockatoo is saying "Pieces of Eight" or "Pieces of Eye". But hey - it's multi-culturalism, right?
I'll let you know how it goes.
Posted by Robert at August 26, 2005 09:41 AM | TrackBack