August 25, 2005
Yet More Plum Blogging
Terry Teachout posted a nifty little factoid that caught my eye this morning:
• Fee paid by Cosmopolitan in 1932 for U.S. serial rights to Thank You, Jeeves, P.G. Wodehouse's first full-length Jeeves novel: $50,000

• The same amount in today's dollars, courtesy of Inflation Calculator: $607,551.90

(Source: Robert McCrum, Wodehouse: A Life)
I don't know much about the publishing world, but that seems to me to be a pretty good wodge of dosh.

And speaking of Wodehouse, I am currently galloping through an old favorite which I haven't read in a few years: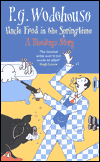 This is (I believe) the first full length novel to feature the exploits of Frederick Altemont Cornwallis Twistleton, Fifth Earl of Ickenham, better known to the world as Uncle Fred. It is also a preeminant work in the Blandings Castle cycle, featuring generous helpings of all the usual cast, including Lord Emsworth, that preeminent porker the Empress of Blandings and the Efficient Baxter. Wodehouse wrote this book in 1939 at what I consider to have been the very peak of his powers, and it is an exquisitely balanced piece of hilarity, displaying Plum's true genious at fashioning insanely complicated plotlines in a manner that appears effortless, as well as his gift for extremely funny dialogue. (He wrote The Code of the Woosters - my favorite Bertie and Jeeves novel, round about the same time.)
Care for a sample? Here's the opening:
The door of the Drones Club swung open, and a young man in form-fitting tweeds came down the steps and started to walk westwards. An observant passer-by, scanning his face, would have fancied that he discerned on it a keen, tense look, like that of an African hunter stalking a hippopotamus. And he would have been right. Pongo Twistleton - for it was he - was on his way to try to touch Horace Pendlebury-Davenport for two hundred pounds.
Read the rest, as we like to say in the Blogsphere. You won't be disappointed.
UPDATE: No, I love the novel, but not so much that I intentionally reposted this three times. Mu.nu still seems to be having some issues with server time-outs. As soon as I can stay connected long enough to rebuild the site, I'll get rid of the redundant posts. Sorry 'bout that.
UPDATE DEUX: Uh, sorry about the sudden mess. Did I just do that?
UPDATE TROIS: Apparently, Firefox users won't know what the hell I'm talking about and this is just an IE problem. But also apparently, I am indeed at fault for it. I've alerted our technical wizards.
UPDATE Le FOUR: Our crack engineering staff nails it: "I found the problem, it looks like the style-sheet got hosed yesterday. Firefox is holding the old information, but IE isn't." Repairs are under way. Please be patient.
UPDATE CINQ: All better now. Thanks, Phin!
Posted by Robert at August 25, 2005 09:11 AM | TrackBack