August 04, 2005
More Gratuitous Anticipatory Vacation Posting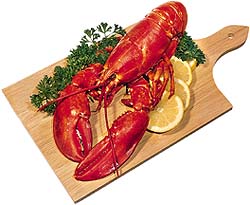 I love lobster. But I won't eat it in restaurants (too messy and undignified) and the stuff available at the typical Northern Virginia Sooper Giant isn't anything to write home about, so the only time I get to indulge in it is when we go to Maine. But when I sit down to that lobstah that was caught out in the bay in front of the house just a little while before, Mayun, I say to myself, it's worth the wait.
There are lots of different lobster recipes, but you can keep your fancy-pants dress up. To me, the simplest is the best: drop lobster in boiling water. Remove. Open. Dip chunks in melted butter with lemon. Repeat. Mmmmmmm.
Speaking of vacation posting, Peggy Noonan waxes rhapsodic about her first visit to West Virginia today. I can't quite figure out what bugs me about this column except that it is both rayther starry-eyed and faintly patronizing at the same time. My brother lives in West Virginia, not too far from The Greenbriar, in fact. I've been there often enough and heard enough stories from him to see past Peggy's touristy gushing, I suppose.

Posted by Robert at August 4, 2005 08:41 AM | TrackBack