July 27, 2005
FLASH IN THE PAN TV BABES OF THE EIGHTIES-'NAM DIVISION
Tonight's feature is none other than Dana Delaney, best known for her role as Colleen McMurphy in the critically acclaimed small screen series China Beach. Best attributes: girl-next-door quality. Has not done too much since China Beach, no doubt shaking off the effects of delayed PTSD as shown by occasional appearances in movies featured on the estrogen channels (known to the more erudite as Lifetime and Oxygen). Fortunately, she is not known to exhibit either of the other signs your humble correspondent has identified as the signs of a starlet desperate to revive a sagging career. Think of Dana whenever you hear Diana Ross and The Supremes sing that song of good loving gone bad: "Reflections."
WHEEZING, PANTING, UTTERLY STUPIFIED REJOINDER OF DISBELIEF from Steve: What? The? Heck?
Not done anything since China Beach?
Okay, so it was in perhaps one of the two wurst movies of all time, if only because, well, you have to get past the Rosie O'Donnell bits. But, come on man, have you no respect for Exit to Eden?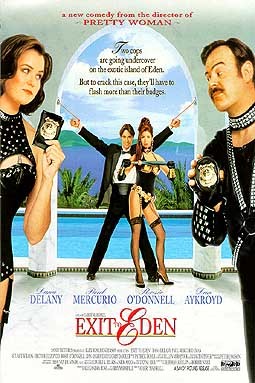 I mean, for the love of Darwin, man, four words: Dana Delaney, in leather, with a whip.
Okay, that's seven, but you get my drift.
So enough of this Dana Delaney mealy-mouthing, or you're banned!
LMC FIRES BACK: The loss of A/C at stately LLama Butcher Manor on the hottest day of the year has addled your brain, Steve-O. I said she "has not done too much since China Beach." Appearing with Rosie "Rocky" O'Donnell does not count as anything no matter what she is wearing, particularly for a flick that must have set a record for the time it took to come out on DVD.
Posted by LMC at July 27, 2005 09:06 PM | TrackBack