July 27, 2005
Build-A-Babe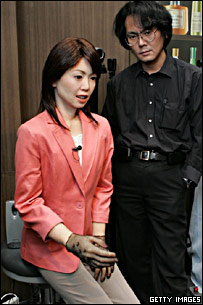 Geeks of the world, take heart! Can't get a girl to give you the time of day? Build your own! Says Prof. Ishiguru, the developer of the Repliee Q1 android, and who you will one day worship as a god:
"Repliee Q1 can interact with people. It can respond to people touching it. It's very satisfying, although we obviously have a long way to go yet."
Yeah, I'll bet. My first thought when I saw this photo was that pron, which has long been known as a driving force behind the development of Internet commerce, is now leaking into the realm of robotics. My second thought was that the pensive, brooding look on the doctor's face suggests he's already obsessing over the idea that Repliee is going to throw him over for Data.
Yips! to Jonah.
Posted by Robert at July 27, 2005 04:34 PM | TrackBack