July 15, 2005
STOP THE MADNESS!!!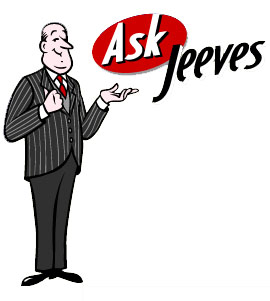 Ya' know, as a P.G. Wodehouse enthusiast, I've tried to be tolerant of the whole Ask Jeeves thing. There is something at least nominally justifiable about the nod to Plum's creation of benevolent wisdom (even though the image is quite mistaken insofar as Bertie Wooster commented time and time again that Jeeves never smiles).
But things have gone too far.
Heretofore, Jeeves has been pictured as above, quiet, serene and ready to be of service. But recently, a whole series of flash animations has started polluting my screen - Jeeves jamming to tunes on his I-pod, Jeeves parasailing and now, for the love of Pete, Jeeves working out on a rowing machine.
This. Is. Wrong.
Jeeves is stately and dignified. He reads Spinoza. His only unbendings are evening visits to the Junior Ganymede Club, occassional trips to the track and his annual trek to Bognor Regis for the shrimping. He isn't hip or cool. He doesn't go in for trendy things. He abhors pop culture. Putting him in these ridiculous poses is preposterous or, as he himself would put it, "taking a liberty".
It must stop.
That is all.
Posted by Robert at July 15, 2005 10:54 AM | TrackBack