July 13, 2005
Some Completely Random Thoughts
I throw these out for what they are worth:
- Bill Cosby's brain-damaged children routine gets funnier and funnier every time I see it. Come here! Come here! C'mere! C'mere! C'mere! C'merec'mere'c'mere!!!
- If you're thinking of investing in some Jos. Banks lightweight wool khakis, you might want to reconsider. They don't hold up very well, they wrinkle at nothing and they are surprisingly uncomfortable in the heat.
- Richard Sharpe and Horatio Hornblower are entertaining heroes, but dang do they spend a lot of time bitching and binding and agonizing. Reading too many of their adventures on end has a cumulative depressing effect. I think this is one of the things that makes Jack Aubrey so refreshing by contrast, his being such a Jovian personality. (How anybody got the bright idea that Russell Crowe could pull this off is beyond me. Crowe is broody and moody. He would make a good Richard Sharpe. But Jack Aubrey? Fuggedaboudit!)
- If Elastigirl is so maliable, why would she ever be concerned about starting to look dumpy in her Mrs. Incredible suit? Couldn't she simply sculpt the ol' hips and backside any way she wants?
UPDATE: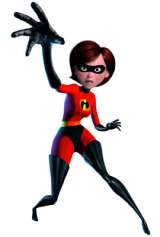 The Impenetrable One has this to say in the comments about Elastigirl:
As a never-recovered superhero geek, my take on the Elastigirl shape issue (not having yet seen the movie) is that using her powers to look all Kate Moss-ish (or whatever) would be a mental distraction/drain of superpower resources/what-have-you that she didn't want to devote to vanity when (one presumes once one is in 'the suit') she would likely have other more important things to occupy her mind about...
Ha! says I. Since in the movie she uses her superpowers to, among other things, a) vacuum under furniture, b) discipline squabbling children and c) pinch Mr. I on the bottom from long distances away, I have to assume there's no limit on her powers. And if that's the case, why wouldn't it be easy for her to give herself whatever figure she wants?
Just askin'.
Posted by Robert at July 13, 2005 10:20 AM | TrackBack