June 16, 2005
Mom The Terminator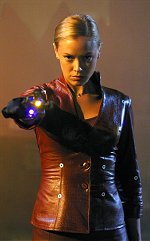 Mommy Dearest
Good. God. Almighty.
I invite you, if you will, to read this article about one Isabel Kallman, who seeks to be the Queen of the Alpha Moms. Honestly, I'm not altogether sure this piece isn't some kind of parody, a lampoon of Alpha-Mom stereotyping. Otherwise, it's truly horrifying.
Not to put too fine a point on it, this woman is a raving nutcase. Her son is on the path to doom. And her husband, who seems like a more level-headed, although pistol-whipped type, at some point is either going to leave her or drink himself to death.
Yips! to Joanne Jacobs, who has the highlights of the article nicely condensed.
UPDATE: Susan Konig on Beta Moms and Gamma Dads. Now this is the way it's supposed to go. Or at least the way it goes at our house......
Posted by Robert at June 16, 2005 04:16 PM