May 31, 2005
Gratuitous Domestic Posting (TM) - Bedtime Reading Division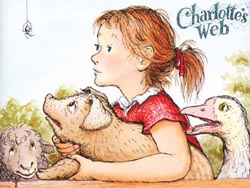 I am currently reading the Llama-ettes Charlotte's Web. I haven't touched this book in years and years and had forgotten just how good it really is. Not only does it tell an entertaining story, it doesn't flinch away from the realities of farm life (i.e., that animals aren't kept about merely for aesthetic purposes). And indeed, I had also forgotten all about the rather bloodthirsty introduction of Charlotte herself - we hit that point last evening and the gels had the same squeemish initial reaction to Charlotte's feasting on the fly as did Wilbur. But I think they got over it.
Another thing I notice is that this book is great for reading aloud at bed time. The chapters are just long enough so that one can be comfortably read each night. And the characters are ready-made for hamming it up - the Llama-ettes think my rendition of the goose ("Listen to me! Listen to me!") is hysterical. My Wilbur is turning into a kind of young Kermit the Frog, while my Charlotte is as calm, cool and collected as Galadriel.
Of course, I anticipate some rather stormy emotions when we hit Charlotte's eventual demise, but I don't think this is a bad thing. I'll let you know how it goes.

Posted by Robert at May 31, 2005 11:05 AM