February 26, 2005
The LLama Lost Weekend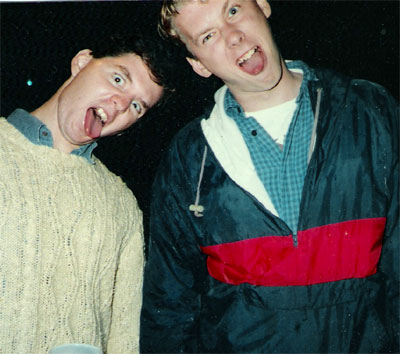 The LLamabutchers, circa 1990
I'm heading out in a bit for a little weekend getaway. The Butcher's Wife (Robbo's beloved betrothed, as differentiated from "The Dear One" aka Mrs. LLamabutcher) is in the all-time all-star spously hall of fame: she thought it would be a great idea to celebrate Robbo's XL birthday by sending Rob plus a bunch of his good for nothing college/law school friends to Vegas for the weekend.
What can I say, guys, she's a peach.
Anyhoo, for various scheduling and sectarian reasons, Vegas wasn't a possibility this winter (owing in no small part that if I left my wife at home with a one-month old and the three other hellions in the middle of winter to go to Vegas to hang out with the guys, let's just say all I'd need to buy would be a one-way ticket.....). Yeah, yeah, I can hear INDCent Bill, Gordo, and Jeff cackling. Hey, I admit it, I'm no fool.
So instead, we are heading back to the scene of the crime, so to speak, and are descending on Lexington, Virginia. Lexington and Vegas, yes they have much in common, mainly that:
1. They both exist on a map of the United States;
B. One can purchase gasoline and soda pop at all hours (at least if the Piggly Wiggly on West Main in Lex doesn't decide to close up early)
III. It's governed by mammals each with one stomach and a four chamber heart.
Other than that, not much else in common.
But a good time will be had for sure. Old guy stories will be told, feats of great strength, cunning, and testosterone will be invented, food and beverages will be consumed, and the lights will be out by the end of the second act of Matlock. And a good time will be had by all.
UPDATE: SUNDAY AFTERNOON:
Full posting will resume once the family of dwarves stops drilling for copper in my head.
Let's just that while what's in Vegas, stays in Vegas, what happens in Lexington, will get blabbed about online.
Let's just say we need all the regulars to email Rob by saying, and I quote, "Yo, hoochie-mama!"
YIPS! from Robbo: This is how these things get out of hand. Let me just say that Hootchie-Mama was, in fact, scoping the whole table, not just me. Also, the fact that I would even be on the list of possible targets, while extremely flattering, is also rather sad, smacking as it does of desperation.
SEKRIT MESSAGE TO THE CAKEEATER: Sadly, that's about as far as we've progressed. Although, in our defense, I think we were going for Bill the Cat and Elmer J. Puttgrass...
Posted by Steve at February 26, 2005 12:16 PM