June 28, 2005
A Little Something For The Missus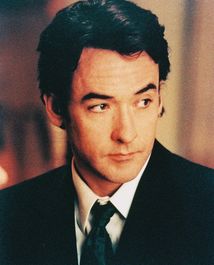 Since we're always going on about various Hollywood Babes, Flash-in-the-Pan or otherwise, around here, I thought it only equitable to note that today is the birthday of John Cusack, one of the Missus' drool-worthy favorites. There is never any dispute about who gets the clicker when, for example, Con Air comes on the tee vee.
I frankly don't mind too much - the Missus is good enough to say that Cusack reminds her of me. But then again, she says the same thing about both James Spader and Andrew McCarthy, too. I don't know if this is a pattern or just a flimsy excuse to indulge in some gratuitous goggling. If she ever tries that line with Val Kilmer, I'll know for certain it's a crock.
UPDATE: Holy nifty-gifty link excuses, Batman! The Demystifying Divas and the Men's Club are squaring off this week on the whole topic of Chick Flicks vs. Guy Movies. Go check out Sadie, Christina, Silk, Kathy, Margi and Red, as well as Phin, Stiggy and the Naked Villains' Minister of Propoganda.
Posted by Robert at June 28, 2005 01:57 PM