June 28, 2005
Death Stalks The Hundred Acre Wood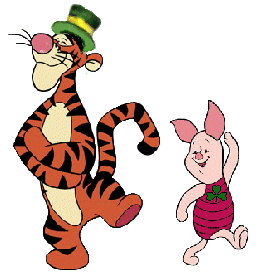 I see where Paul Winchell, the voice of Tigger, and John Fiedler, the voice of Piglet, both died over the weekend. This follows the death of Howard Morris, who played Gopher, last month.
This inspired my more eviiiil side to think a Pooh Dead Pool might be in order, but further research reveals that not many of the original denizens are left.
Curiously, the Grim Reaper seems to pass through the Hundred Acre Wood on a regular basis, taking out several locals on each pass (and getting more efficient each time). Sebastian Cabot, the original narr-A-tor, Junius Matthews, who played Rabbit and Barbara Luddy, who played Mrs. Kanga, all died in the late 70's. Sterling Holloway, who played Pooh himself, and Hal Smith, who played Owl, both died in the early 90's. And now, of course, Fiedler, Morris and Winchell.
This leaves Jon Walmsley (Christopher Robin) and Clint Howard (Roo). God only knows what happened to Ralph Wright, who played Eeyore.
I'm indulging my Dark Side a bit because I have come to heartily loathe All Things Pooh. The movies put out by Disney in the late 60's were very well done and managed to keep a certain amount of the sly humor of the original stories, but since then the whole franchise has degenerated into the worst sort of treacly pablum. The Llama-ettes went through a stage of enthusiasm for the newer cartoons (thankfully now long over) and one could see the collective hand of legions of Child Specialists, all bent on ripping out all that made the originals worth watching (and reading) and replacing it with a combination of the cutesy, the preachy and the saccharine. Bleh.
UPDATE: Of course, the other reason why I dislike Pooh is because of the falling out between A.A. Milne and P.G. Wodehouse. Milne, to put it gently, was something of a tick, one who Plum, as patient a man as he was, eventually felt compelled to drop. Here is a short summary of the fight, including a description of Plum's gentle mockery of his former friend.
Posted by Robert at June 28, 2005 09:27 AM