June 21, 2005
Gratuitous Musickal Posting (TM)
Some lively and amusing comments about hippy music and interpretive dance in some R.C. parishes came in response to my religious wordlview quiz results the other day. Following up on that, I just can't help posting my own church's musical offering for this coming Sunday:
The Sunrise Quartet will be featured in Mozartís Missa Brevis in C on Sunday, June 26, at services at 9:00 and 11:15 a.m.

Wolfgang Amadeus Mozartís Missa Brevis in C (K.259), subtitled Orgelsolo-Messe (Organ Solo Mass) is a well-known example of the Mass settings that were common throughout the Austrian Empire in the late 18th century. Mozartís Missa Brevis in C conforms to the strictures of length and the limitation of solo passages imposed by the Prince-Archbishop of Salzburg, Mozartís employer for a brief period. Mozart was nineteen years old when he composed this Mass. It is bristling with youthful energy that is not always perfectly placed, as in the lively and aggressive setting of the Kyrie, and in the musically imaginative but liturgically unusual treatment of the threefold reiteration of the word Sanctus. In the customary manner of the period, the Benedictus is given an extended and soloistic treatment. Mozart sets this movement as a quartet with concertante organ accompaniment, and it is this involvement of the organ that gives the work its name Organ Solo Mass.
I resist the impulse to say, "Neener, Neener!" and instead will post a review next week.
UPDATE: In response to JohnL's comments: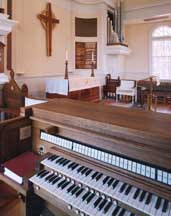 Our church's organ.
There is some considerable information on the church's website about the makeup of this organ. Unfortunately, I couldn't reproduce it here because of some formatting issues. But if you're interested in that sort of thing (and I know John is), I'll send the link along to you.
Posted by Robert at June 21, 2005 09:44 AM