April 26, 2005
LLAMA Emergency PUBLIC SERVICE ANNOUNCEMENT
*READ THIS*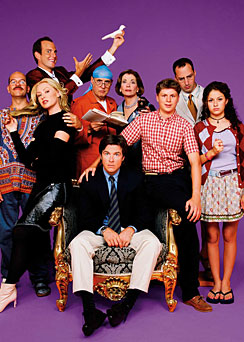 This is bad - According to at least one industry type, Fox is on the way to cutting Arrested Development from its fall lineup! This is virtually the only show on network tee vee worth watching these days.
Well, there may be one straw left to grasp. If, like me, you would like the show renewed, you can now sign this on-line Loyalty Oath.
Please - I've never asked you people for anything before. I'm blegging now! Go over and sign! Sign early and often! Tell your friends! Pass this meme on! Don't let A.D. vanish into the night!
Do it for the Bluths!
UPDATE: Oh, and pace The Maximum Leader, if Arrested Development does get the axe, I doubt if I'll bother watching The Simpsons anymore, since waiting for A.D. is pretty much all that's got me through this last season of it. Rupert - you've been warned.
Posted by Robert at April 26, 2005 05:13 PM